Basic CompTIA Certifications for you
The IT industry is one of the most rapidly changing industry and to stay in the game having up to date necessary certifications is crucial. CompTIA is a non-profit organization which issues professional certificates for various IT-related skills in over one hundred countries, with over two million candidates already the CompTIA certification is overgrowing. Regardless of whether beginners need to gain some valuable skills or professionals want to update their latest tech skills, CompTIA is packed with certifications for each level and for many various fields in the Information Technology…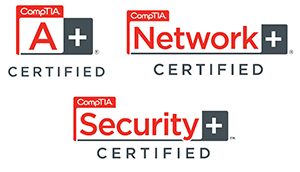 The IT industry is one of the most rapidly changing industry and to stay in the game having up to date necessary certifications is crucial. CompTIA is a non-profit organization which issues professional certificates for various IT-related skills in over one hundred countries, with over two million candidates already the CompTIA certification is overgrowing.
Regardless of whether beginners need to gain some valuable skills or professionals want to update their latest tech skills, CompTIA is packed with certifications for each level and for many various fields in the Information Technology (IT) industry. There are four levels of certifications: Basic (Core), Professional, Master and Specialty.
There are many various certifications provided by CompTIA: Cloud+, Linux+, Network+, Security+. Server+  etc. This article is mainly focused on the core CompTIA certifications. It is important to stay updated with the new APIs, and new technologies and the CompTIA certifications will help you in that part. For the majority of certification exams on Core level, no skills are required initially, however, as the level of certification increases more proficient skills will be required.
To start with there is the CompTIA A+ certification which is for absolute beginners and it teaches the basics of how to operate a computer and other various peripherals. The CompTIA A+ is the starting point for anyone who is stepping in the world of IT. It is much more than just repairing computers. In order to get certified a candidate needs to pass two exams: 220-901 at first and then 220-902. The exam 220-901 is the one which covers the hardware parts of mobile phones, and personal computers, various peripherals and also the troubleshooting of hardware and network related issues. Whereas the exam 220-902 covers the software part, so it teaches the candidates to install different operating systems including Windows, Apple OS X, IOS, Android and even Linux. The 220-902 also teaches the basics of cloud computing and the fundamentals of cybersecurity. The minimum marks required to pass the exam 220-901 is 675 out of 900 and for the exam 220-902 the passing grade is 700 out of 900. CompTIA A+ is not for a specific field as it applies to almost every IT field, it helps the candidates in problem-solving or troubleshooting (which is the core of many IT fields). After certification, a candidate should not only be able to figure out a variety of problems including fundamental network problems, issues related to operating system, issues related to security and the operating systems of mobile phones but also fix the problems. Finally, the A+ exam also assists users to connect to the data they require to do their respective jobs regardless of the devices being used. At least 9-12 months of on-field experience is highly recommended.
The next certification we are going to focus on is CompTIA Network+ Certification which has been designed for network technicians with the emphasis on your practice skills and your wish to update them. In order to get the certification, you can take either N10-006 which retires on 31st of August 2018 or a new version of this exam N10-007 which has become available from March 2018. Network+ is suitable for beginners with the basic knowledge of networking including topologies, the configuration of network devices, security, and installation. The exams cover many various parts of the networking world including the designing and implementation of functional networks, configure, manage and maintain many different networking devices. The exam also teaches to control many devices like modem, router, and switch. Having passed any of the mentioned exams a technician is capable of troubleshooting network issues, implementing network security and protocols as well as to recognize the drawbacks of an already built network system.
CompTIA Security+ is one of the most popular certifications provided by CompTIA which is accredited by ANSI. To get certified a candidate has to pass only one exam either SY0-401 (has been launched since 1st of May, 2014) or SY0-501 (available since 4th of October, 2017). Two-years of on-field experience is required for this certification. To some extent the Network+ is the base of the security+, and this is precisely why passing the exam N10-006 and N10-007 before attempting the Security+ certification is a must. The certification is a vendor-neutral and while the base or root of this certification is Network+, if the basic knowledge of IT administration and cybersecurity is demonstrated, then this exam can still be taken. Security is the most rapidly changing, and growing industry in the world of IT, the Security+ certification assists the candidates in performing the core security functions with ease. The Security+ is the primary requirement for anyone stepping into the cybersecurity industry. The certification exam is more of a practical one than a theoretical one as it gives a much more "hands-on" experience in the cybersecurity world. This ensures that the technician is ready to problem solve and fix the issues. Most candidates choose the CompTIA security+ DoD 8570 compliance, and this certification also focuses on the latest trends in risk and threat management, risk mitigation, and intrusion detection. The CompTIA Security+ certification perfectly fit people who are pursuing a career as a network administrator, System admin, security admin, IT auditor and penetration tester. This certification is the first one any network technician should take after the Network+ certification as it helps the candidates in getting an average or even an intermediate job because teaches technicians how to figure out problems as well as which methods use to in case when a threat in any system is recognized.
For most of these certifications experience of at least 9 months is required however for exams like the CompTIA Security+ experience of 2 years is necessary. Depending on experience, skills and whether the candidate has a bachelor degree in IT or any other IT related course, candidates will find the exam easy or tough.
To sum up, CompTIA is a leading vendor recognized worldwide which provides a variety of vendor-neutral certifications. Which certification to choose is a question for you, and it depends on the career you are going to pursue or just upgrade your skills. Anyway, passing these exams will help you tremendously not only excelling your career path but also to make a career as a professional and successful freelancer. Being a certified professional your clients will definitely have confidence that you are be able to perform the tasks perfectly. Furthermore, investing in education is always beneficial, as human capital is the key to accel in whatever career path you choose.