Top Cisco Certifications Worth Gaining In 2018
Cisco is arguably one of the biggest and most successful companies in the world with respect to networking and accompanying infrastructure. A lot could be attributed to this level of success, including the company's current mindshare in the market, the strength of the brand along with a powerful sales infrastructure. This is an enterprise which currently commands a decent global market share, with its systems and infrastructure being used by hundreds of thousands of enterprises. With this adoption comes a demand for accompanying Cisco certifications. Earning specific Cisco certifications gives…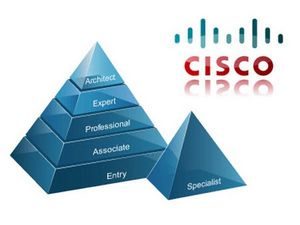 Cisco is arguably one of the biggest and most successful companies in the world with respect to networking and accompanying infrastructure. A lot could be attributed to this level of success, including the company's current mindshare in the market, the strength of the brand along with a powerful sales infrastructure. This is an enterprise which currently commands a decent global market share, with its systems and infrastructure being used by hundreds of thousands of enterprises. With this adoption comes a demand for accompanying Cisco certifications. Earning specific Cisco certifications gives one a better chance of getting employed and earning a higher salary compared to an individual without the mentioned certifications.
This article will look at two of the best Cisco certifications worth gaining in 2018. It will offer an in-depth argument as to why they are the best, some of the factors to look out for when opting to study the certification, along with the job prospects for the same. The article will also look at the potential earnings in the job market along with the various positions that one can apply to within various industries and organizations around the world. It is noted that Cisco has over 40 different certifications, all of which are unique in their own respect and offer different opportunities to those who are interested. However, there are two specific ones that stand out from the rest and are qualified as the best Cisco certifications worth gaining in 2018.
1. CCNA Routing and Switching
This certification takes into consideration the current market shift towards controller-based network architectures. It is a shift currently being observed in the market and the Cisco CCNA Routing and Switching certification places one in an excellent position to facilitate the said transition. It equips one with the gen of all the necessary foundational know-hows while ensuring that the interested party stays relevant with talent sets which are needed in the overall acceptance of next-generation technologies. CCNA Routing and Switching is classified under associate-level Cisco certifications. Associate-level certifications offer the basis of Cisco's networking accreditations and prepare one to learn the more professional certifications which the enterprise offers to those who might be interested. Just like any other professional course, there are procedures to be followed for one to earn the CCNA Routing and Switching certification.
For one, there are no prerequisites. One does not require any previous Cisco certification to study this specific certification. However, he or she is required to take part in the recommended training. The entire process from beginning to the end can take anything between 2 and 8 months before one can earn the certification. It all depends on the approach adopted by the learner. With hands-on networking, earning a CCNA Routing and Switching certification can take two months. However, if one is not actively engaged or must juggle different responsibilities and studies, then it could take up to eight months. There are several exams that one can take once done with the recommended training. They include 200-125 CCNA, 100-105 ICND1 and 200-105 ICND2. With this certification, one can apply for a variety of positions including a network support engineer, a network engineer and a network analyst. The average earnings for these positions are anywhere between $78,254 and $147,560, which is decent.
2. CCNP Routing and Switching
This certification builds on CCNA Routing and Switching discussed above and takes it to a whole other level. This is a professional-level certification and it validates a person's ability to strategize, implement, confirm and troubleshoot local as well as wide-area business networks. The accreditation also allows one to work collaboratively with other experts in different sectors including advanced security, wireless, video and voice solutions. This is a certification that is best suited for individuals with at least a year of networking practice and would like to advance their skills which would also allow them to work independently on complex network solutions. Once qualified, one can become a network engineer, a support engineer, network technician or a systems engineer, all of which attract average annual earnings of $77,484 and above.
In addition to having a one-year experience in networking, one needs to have a legal Cisco Routing and Switching accreditation or any Cisco CCIE certification to qualify for CCNP Routing and Switching. One must undergo the recommended training after which there are three exams that one can sit for. They include 300-101 ROUTE, 300-115 SWITCH and 300-135 TSHOOT. It takes anything between six months and a year for one to receive this certification. It is relatively demanding, which is why it takes that long. However, the merits far outweigh the existing demerits, which is why this is one of the two most sought-after Cisco certifications of 2018.
To summarize, Cisco is a company which fully understands the future of technology. Consequently, it is positioning itself in such a way that it will still offer relevant products and services which will still be in demand in the future and will also facilitate the current transition from existing technology to newer alternatives. With this comes the certifications which are intended to equip people with the knowledge and skills to facilitate the transition. CCNA and CCNP Routing and Switching are certifications with a growing demand in the job market and learning them will offer one a better chance of getting employed and earning a decent salary for many years to come. They are the best certifications that one can learn in 2018.