2018's Top 10 Certification Exams In IT
It's the year 2018 and the tech world is constantly at its full speed of progress and excellence. As it keeps boosting and evolving, more and more individuals are interested in taking up a career in IT. Question is, what certification exams should one take to make a good advancement in the realm of IT? Well, here's a list of top certification exams that will take you to places in the IT industry this 2018. 1. Cisco Certified Network Associate Exam (Exam Number: 200-125) Acquiring a certification from Cisco Corporation…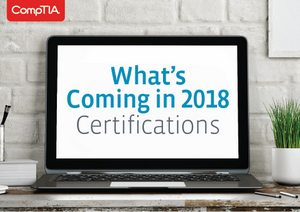 It's the year 2018 and the tech world is constantly at its full speed of progress and excellence. As it keeps boosting and evolving, more and more individuals are interested in taking up a career in IT. Question is, what certification exams should one take to make a good advancement in the realm of IT? Well, here's a list of top certification exams that will take you to places in the IT industry this 2018.
1. Cisco Certified Network Associate Exam (Exam Number: 200-125)
Acquiring a certification from Cisco Corporation directly validates your skills in the technological scene. Huge agencies easily take note of professionals with certification roots coming from Cisco as it's globally known for its competency in IT training and education.
One must successfully pass the required examinations for this certification which would be constituted of more than 60 challenging questions in a span of 90 minutes.
The exam puts to test an individual's competency in handling technologies with topics centered on routing, WAN and LAN switching, infrastructure management, security, and services as well as network fundamentals.
There are no perquisites for CCNA Routing and Switching certification.
2. CompTIA Security + exam (Exam Number: SY0-501)
IT professionals should keep a good eye on CompTIA Security+ as it's considered as an important certification to be acquired in the very first stage of learning cybersecurity.
The exam consisting of 90 challenging performance-based questions would test the skills of candidates in conducting threat analysis, responding to risks in networks and applications and so on. One must be able to extract this knowledge in his or her actual performance in the tech world mainly on systems, network and security administration. Moreover, a candidate can also learn skills in cryptography and PKI, risk management, identity and access management and so on.
At least a 2-year IT administration experience along with CompTIA Network+ is needed to take the examination.
3. Implementing Cisco IP Switched Networks Exam (Exam Number: 300-115 SWITCH)
The 2-hour exam is one section in the CCDP and Cisco CCNP Routing and Switching certifications. With over 55 questions designed to challenge a candidate's switching expertise, the SWITCH qualifying exam focuses on VLANs and WLANs integration with topics centering on Infrastructure Security and Services as well as Layer 2 Technologies.
Through the examination, a candidate's mastery of the configuration, verification of implementing switching solutions under the usage of Cisco Enterprise Campus Architecture.
4. Implementing Cisco IP Routing Exam (Exam Number: 300-101)
Once this qualifying exam is passed, a candidate's routing mastery will be certified, hence enabling them to become professionals in their field. With a duration of 120 minutes, the exams range from topics such as Network Principles, Layer 2 & 3 Technologies, Infrastructure Security and Services along with VPN Technologies.
Furthermore, aspirants who are interested in taking this exam are given the chance to make it big in the IT technological arena, as with every field there is, with respect to the routing and switching domain.
Sample questions are provided in the exam tutorial, with question types ranging from fill-in-the-blanks type to the multiple-choice ones.
5. Implementing Microsoft Azure Infrastructure Solutions (Exam Number: 70-533)
From the name itself, a candidate who wants to apply for this exam would deal with Microsoft Azure in implementing infrastructure solutions. The exam centers mainly on infrastructure and preparing for it will open you to a pretty much fun yet challenging mode. Azure fosters a progressing environment that supports beginners in understanding and dissecting the world of IT programming through its exceptional labs and exercises.
One can take the Practice test and monitor the progress made through several attempts and retakes. A smart suggestion would be not to depend solely on memorization but to understand the given questions already presented in the prep-test and acknowledge your strengths and weaknesses.
6. VMware Certified Professional 6.5 – Data Center Virtualization Exam (Exam Number:  2V0-622)
A successful passing of this exam means that your expertise in treating VMware vSphere 6.5 settings are at its highest, specifically in installing, deploying and scaling the said environment. A passing score of 300 will certify your skills as an IT professional, thus putting you in a favorable light in the IT world.
A list of training is recommended for this exam as it's vital in further validating the skills required in a candidate. Such includes the VMware vSphere: Install, Configure, Manage [V6.5] and VMware vSphere: Optimize and Scale [V6.5], to name a few.
The exam spans about 105 minutes with a total of 70 in-depth questions in a proctored, single or multiple-choice type of format. An online practice exam is also provided for would-be professionals to study in advance.
7. Certified Information Systems Security Professional
CISSP has long been famously acknowledged in the industry of information security because of its remarkable certification of professionals all in its 8 domains. To be a certified candidate, one must demonstrate proficiency in Security and Risk Management, Asset Security, Security Architecture and Engineering, Communication and Network Security, Identity and Access Management, Security Assessment and Testing, Security Operations and Software Development Security.
To be considered eligible in taking the certification exam, a minimum of 5-year experience (full-time, paid and cumulative) in either 2 or plus disciplines of the given 8 domains found in the CISSP Common Body of Knowledge is required.
For about three hours, one will be presented with 100 or more innovative questions using the Computerized Adaptive Testing, with the Security and Risk Management as the domain having the highest weight in the exam.
8. CompTIA A+ Certification Exam (Exam Number: 220-901)
Two exams must be taken by a candidate before acquiring his or her specific certification, and that would be: CompTIA A+ 220-901 Certification Exam and 220-902. The former is the first one to be taken by a candidate to take into consideration the required skills for IT professionals under the entry-level.
Its domains involve Hardware, Networking, Mobile Devices as well as Hardware & Network Troubleshooting. The exam is highly based on the weight of the 4 domains, with Hardware & Networking Troubleshooting taking up the highest percentage in the exam.
9. Certified Ethical Hacker Certification Exam (Exam Number: 312-50)
Perhaps the most popular certification exam in the IT game is the Certified Ethical Hacker Certification. The hiring of ethical hackers is on a rapid growth because of the damages threatening the cyber world. Thus, a certification of this career would put someone in a very much acknowledged light in various agencies and organizations. This credential would help candidates to keep up or have the minimum standards exceeded essential in becoming a professional.
The exam runs for four hours with a multiple-choice format consisting of 125 stimulating questions to prove one's competency in the field of ethical hacking.
10. CompTIA Network + Exam (Exam Number: N10-006)
The same with the rest of the certification exams, this one is considered as one of the best as it magnets individuals toward a professional passion in IT infrastructure. The Network+ certification exam helps validate the competency of each IT professional in terms of designing, supporting, implementing networks as well as responding to unwanted threats in a network. As of March 2018, the newest CompTIA Network+ N10-007 exam was made accessible.
In conclusion, taking these certification exams is more than just a trend in 2018's IT Industry, but rather, they're considered as the prime choices an individual can choose to take in creating a boosting career in the market. Religiously following each step in the examination matched by your constantly evolving know-how in the various IT field will let you go far in the ever dynamic tech scene.