Top 10 Cloud Certifications
The growing number of IT professionals visibly creates a competition in the field of information technology. And if you want to be on the top, you need to add a certain influential factor to your curriculum vitae like cloud certifications. The significance of cloud certifications is not just limited to the job marketplace but also allows you to be part of a highly-reputed community of IT specialists. Cloud certifications are some of the most recognized accreditation in the IT industry. These are designed to polish your knowledge and skills to…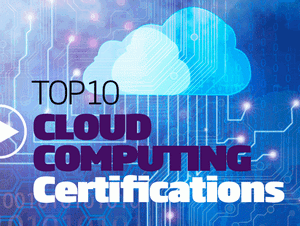 The growing number of IT professionals visibly creates a competition in the field of information technology. And if you want to be on the top, you need to add a certain influential factor to your curriculum vitae like cloud certifications. The significance of cloud certifications is not just limited to the job marketplace but also allows you to be part of a highly-reputed community of IT specialists.
Cloud certifications are some of the most recognized accreditation in the IT industry. These are designed to polish your knowledge and skills to some of the ever remarkable technologies and cloud computing software. Without any delay, here are the top 10 cloud certifications to boost your career.
CompTIA Cloud+
With many fascinating credentials flooding the IT scene, CompTIA Cloud+ remains to be one of the most coveted and the most valuable cloud certifications. Simply because it tailors some of the basic and even comprehensive tools for different cloud features, from cloud modeling to cloud security to security plus certification. Plus, it is issued by CompTIA, an international provider with over two million vendor-neutral certifications. This integral entry-level certification is considered as the base for IT professionals wanting to create a starting mark in the global cloud community. A 1 to 2 years' work experience within the niche of network, data center and storage is needed to get started with this certification.
Cisco CCNA Cloud
Cisco will always be one of the worldwide leaders when it comes to IT and networking, and it's nothing but imperative for them to provide cloud certifications that are valuable to IT individuals. Over the years, they have continuously proven their worth by providing well-known products and certifications. And part of their extensive array of options is the CCNA Cloud, an entry-level program for administrators and engineers with a basic comprehension of the cloud framework and implementation. To be able to earn to complete this certification, you must pass the CLDFND and CLDADM exams as well as the certain training.
Cisco CCNP Cloud
Being a household name in the IT world, Cisco offers another remarkable cloud certificationㅡ the CCNP Cloud, which is considered as the follow-up to the initial CCNA Cloud. This upgraded credential is designed for expert cloud practitioners, administrators, engineers, architects and the like, who have intensive experience in different cloud models, Cisco Intercloud and IasS. Aimed at the experience-level professionals, the certification requires a combination of knowledge and skills to build and enact various cloud solutions and network infrastructures. For you to earn this certification, you must first complete the CCNA Cloud then pass four different exams.
(ISC)² CCSP
Next on the list is the CCSP certification, which is the best option for IT professionals looking to harness their expertise on cloud solutions, infrastructure security, and data, as well as elevate their comprehension on compliance, audit procedures, legality, and privacy of GDPR. Backed by Cloud Security Alliance and (ISC)², this expert-level certification helps you create a concrete foundation in the field of cloud security that includes cloud computing and safe and secure access to data. Because of its high-level eligibility, individuals must have at least five years IT experience, in-depth knowledge about CISSP, and another set of prerequisites to be able to earn this certification.
Microsoft MCSA: Cloud Platform
If you are on the hunt for something that features different cloud certification exams, then Microsoft MCSA Cloud Platform could be the answer. Featuring five distinct exams that include Developing Microsoft Azure Solutions, Implementing Microsoft Azure Infrastructure Solutions, Architecting Microsoft Azure Solutions, Designing, Implementing Cloud Data Platform Solutions and Designing and Implementing Big Data Analytics Solutions, this varied cloud certification requires you to just pass two to earn this coveted accreditation. This kind of personalized program is very fitting for those who want to improve a particular skill and interest through specific exams and training.
Microsoft MCSE: Cloud Platform and Infrastructure
Another topnotch cloud certification is the Microsoft MCSE Cloud Platform and Infrastructure. This advanced certification polishes your ability to administer data centers and provides rigorous learning about networking, system and identity management, storage solutions and other related cloud features. Achieving the MCSE is done by completing two MCSA exams and one elective exam. And, there's no need for you to finish the MCSA Cloud Platform to be able to start the MCSE because you just have to pass one of the following prerequisites: C Windows Server 2016, Windows Server 2012, Cloud Platform, and Linux on Azure. As the most sought-after Microsoft cloud certification, it is nothing short of a charm to have this added to your portfolio.
Microsoft MCSA: Linux on Azure
A unique cloud certification, the Linux on Azure is tailored for individuals who have a thing for different Azure services. The certification allows you to establish, configure and run Linux websites. Not only that, you will know certain Azure key features like PowerShell and get the chance to work with virtual machines and networks. After this certification, you can now consider yourself as a Linux on Azure specialist.
AWS Certified Solutions Architect – Associate
With the upsurge of different apps all around the world, having a functional certification like AWS Certified Solutions Architect is definitely something to consider. Build your master app profile with the help of this certification featuring two options: Associate and Professional. This kind of program instituted by Amazon Web Services is a top hit for people planning to design and implement apps using the AWS services. Apart from its app likability, the certification gives you information about some vital cloud features that encompass availability, expandability, and geo-redundancy of various apps.
AWS Certified Solutions Architect – Professional
The continuation of the AWS Certified Solutions Architect- Associate, the professional level is labeled as the most advanced AWS cloud certification suitable for first-rate AWS architects. This high-level credential enhances your technical skills to be able to experience outlining systems and applications, design and create solutions and even recommend architecture and apps.
Google Professional Cloud Architect
Last but definitely not the least, the Google Professional Cloud Architect is the ideal option if you want to be more competent when it comes to massive data handling, robust solutions, and machine control. As a cloud certification from a tech-giant like Google, you will receive an utmost understanding of the Google cloud platform and architecture.
Conclusion
Having a cloud certification will surely brighten up your portfolio. This will give you a good run compared to others who have plain educational background and experience. With the skyrocketing demand for IT professionals with cloud certifications, it's now time to make the most out of these valuable certifications.